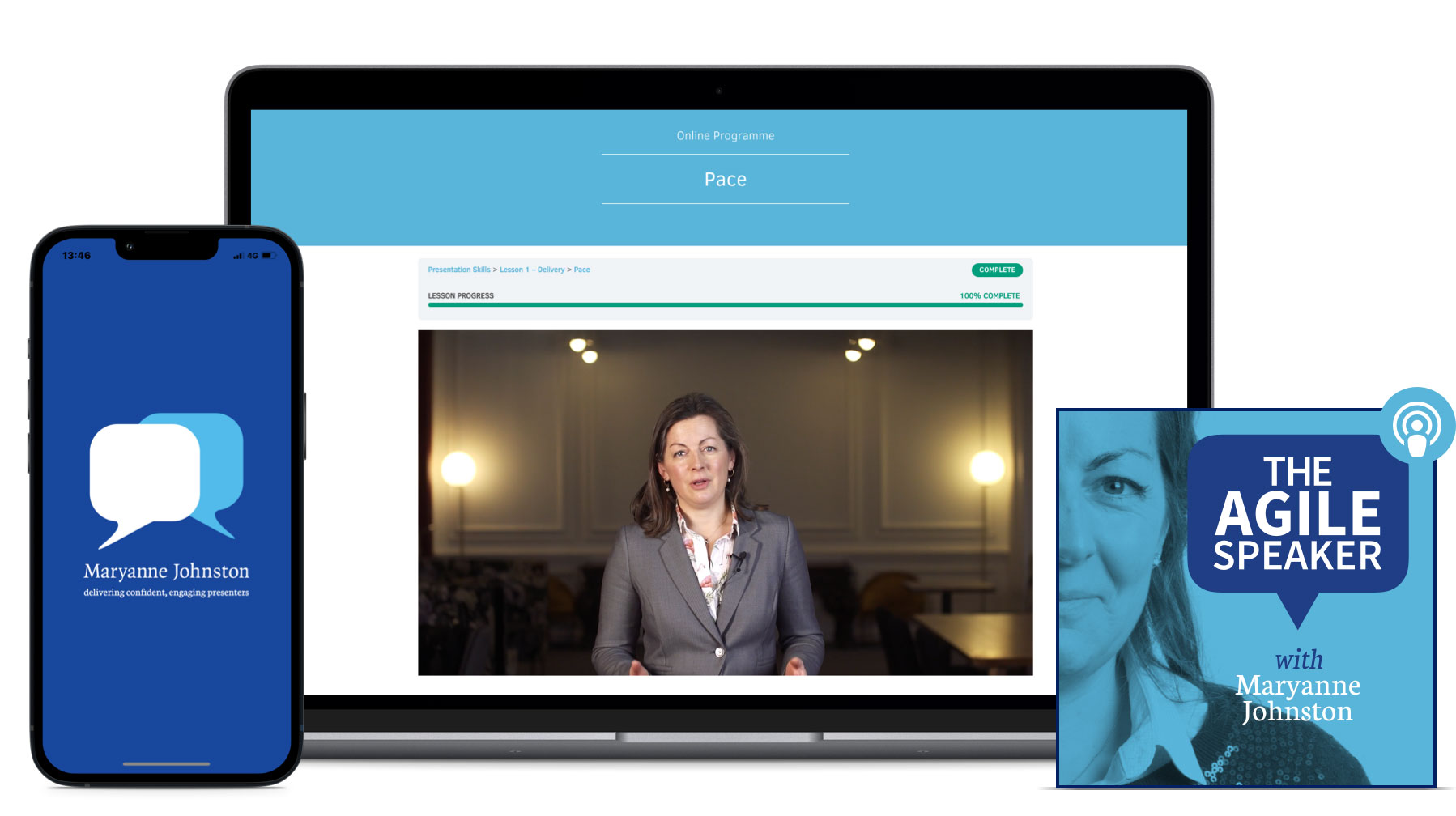 The Agile Speaker with Maryanne Johnston
Our new Online Presentation Skills Course gives you the option of flexible learning.
Whether you choose to learn at your desktop during your working day or via the app whenever it suits, our 12 month subscription offers you flexibility, choice and convenience.
Why I've Launched Online Course
We created this course to answer two questions I am often asked by clients:
How can we embed the skills and habits taught within the courses you run – long term?
How can we get everyone in the organisation 'Maryanne'd' without the cost of a full course or the logistics/time/COVID restrictions of bringing teams into Head Office?
What's In The Course
The new Online Presentation Skills Course answers these questions and far more.
It can be used as:
A standalone programme to sit within your learning and development academy
A cost-effective, blended programme with live/online workshops with me for follow up support
A refresher – giving you instant support 24/7, 365 days of the year, when you need it before a presentation
It covers five topics across 22 short films presented by me with reviews to test your learning, handouts and key points to download and a personalised CPD certificate if needed.
Core topics include:
Delivery: how to come across as relaxed, clear and confident – face to face and online
Preparation: how to save time
Preparing Your Content: how to create engaging material
Using Visual Aids: how to support your message not distract your listener
Handling Questions: how to plan for Q&A and handle challenging questions
How You Can Access The Course
It's easy to access anytime, anywhere.
The integrated app makes it easy to access and revisit the film clips you need as you prepare for presentations and pitches. 
The course takes approximately 2.5 hours to complete. It is designed to fit in with your lifestyle, allowing you and your team to use it as and when it suits within the 12 month subscription period.
Whether you're an experienced speaker or new to presenting, there is something for everyone.
If you'd like a demo or want to find out how it could work for you and your team, please get in touch or fill in the form below.
Sign Up For More Details Below